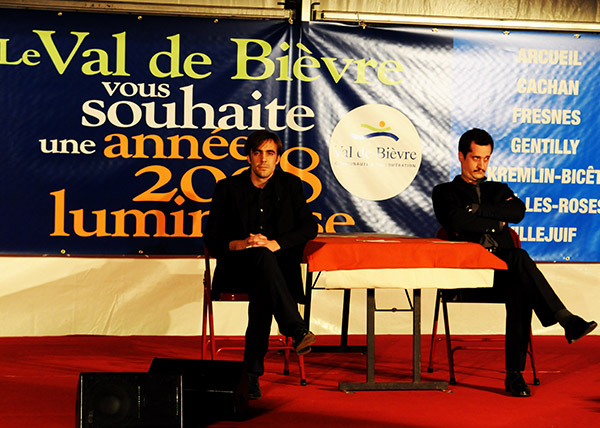 La Communauté d'agglomération du Val de Bièvre (94)
From 2007 to 2011
From 2007 to 2011, Dramaticules was invited by Jean-Pierre Prévost, Jean-François Save and Alain Mollot, the respective directors of Théâtre de Cachan-Jacques Carat, ECAM, in Kremlin-Bicêtre, and Théâtre Romain Rolland, in Villejuif, to implement an itinerant residency programme in the seven towns in the Communauté d'agglomération du Val de Bièvre (Arcueil, Cachan, Fresnes, Gentilly, Le Kremlin-Bicêtre, L'Haÿ-les-Roses and Villejuif). Within this framework, made possible by a strong commitment on behalf of the CAVB, the company created three full-scale pieces, a soap-opera for the theatre in three episodes, two small-scale pieces and three staged-readings.
This wide-ranging residency also enabled Dramaticules to set forth the foundations of their audience outreach actions, structure the company in a more solid way and develop dedicated, long-term partnerships with all the cultural institutions of the Val de Bièvre area, as well as its socio-cultural organisms, Conservatories, schools, hospitals and the Fresnes prison.
The CAVB was discontinued in 2015 and became part of the Etablissement public territorial Grand-Orly Seine Bièvre with whom Dramaticules continues to work on a regular basis.
Discover the territory